At the end of the day, it's about how you feel in your clothes and what you experience whilst wearing them. Therefore we happily share our Miaki Playlist with you to enjoy with our favourite cocktails. Cheers!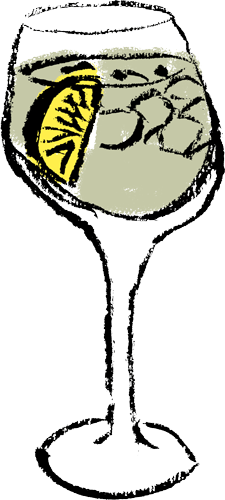 2cl Vodka
2cl Lemon Juice
2cl simple syrup
9cl Cold Champagne
Ice cubes
Pour all ingredients, except Champagne, into a shaker with ice and shake until chilled. Strain into cooled glass, fill with Champagne and stir lightly. We like to add fresh fruit to top it off - berries in Summer, blood oranges or Grapefruit in Winter.
This drink remains true to it's name and delivers a punch which doesn't surprise us that it is named after a canon. By adding gin in place of vodka it is transformed to a French 75.
4cl vodka
1dl lemonade
1dl ice tea
mint
Fill a tall glass with ice cubes. Add Vodka and stir well. Fill with ice tea and lemonade. Garnish with fresh mint.
Named after the infamous golfer, this drink works just as well with or without vodka. We recommend an unsweetened ice tea.
4cl whisky
2cl lemon juice
1cl simple syrup
2 dashes Angostura bitters
12cl ginger beer
ice cubes
orange slices
All ingredients, except ginger beer, into a shaker with half of the ice cubes and shake well. Strain into cocktail glass and add the remaining ice cubes and fill the glass with ginger beer.
The ideal, moreish thirst-quencher. This cooler also works with rum and lime juice.
3cl vodka
3cl Kahlua
3cl Freshly brewed espresso
1cl simple syrup
ice cubes
All ingredients into a shaker with the ice cubes Zutaten im Shaker and shake well. Strain into a Martini glass.
This drink originated in the heart of London when a model ordered a drink "to wake me up, and then fuck me up". Whether this honor belongs to Ms Campbell or Miss Moss is for each individual to decide for themselves.